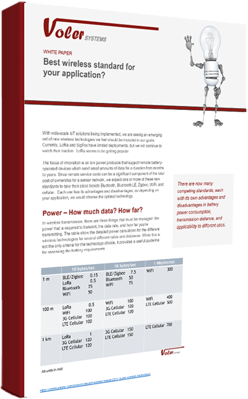 Download Voler Whitepaper
Best wireless standard for your application?
What's Inside?
Summary
The Internet of Things (IoT) is both known and unknown in the modern world. It is a common term for individuals in the tech industry and corporate world but only seldom heard by the general populace, although it's part of their daily lives.
IoT is the connectivity of physical objects such as devices, vehicles, buildings, electronics, and networks that allows them to interact, collect and exchange data. It applies to millions of different things, including updated traditional products previously not connected to the internet.
Let's look into the many ways these devices can communicate wirelessly
About Voler Systems
Located in Silicon Valley and with more than 40 years of experience in electronic design, Voler Systems continues to be a leading custom product design consulting company providing high-quality electrical engineering and firmware development. Voler Systems assure delivery of quality products, on time, on budget with low risk. All projects are undertaken with good specifications, the right people, quality design, constant communication, and a smooth transfer to manufacturing.