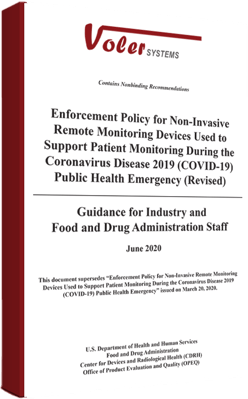 Download Voler Whitepaper
Enforcement Policy for Non-Invasive Remote Monitoring Devices Used to Support Patient Monitoring During the Coronavirus Disease 2019 (COVID-19) Public Health Emergency (Revised)
What's Inside?
Summary
This guidance is being issued to address the Coronavirus Disease 2019 (COVID-19) public health emergency. This guidance is being implemented without prior public comment because the Food and Drug Administration (FDA or Agency) has determined that prior public participation for this guidance is not feasible or appropriate (see section 701(h)(1)(C) of the Federal Food, Drug, and Cosmetic Act (FD&C Act) (21 U.S.C. 371(h)(1)(C)) and 21 CFR 10.115(g)(2)). This guidance document is being implemented immediately, but it remains subject to comment in accordance with the Agency's good guidance practices. Comments may be submitted at any time for Agency consideration. Submit written comments to
the Dockets Management Staff (HFA-305), Food and Drug Administration, 5630 Fishers Lane, Rm. 1061, Rockville, MD 20852. Submit electronic comments to https://www.regulations.gov. All comments should be identified with the docket number FDA-2020-D-1138 and the complete title of the guidance in the request.
About Voler
Located in Silicon Valley and with more than 40 years of experience in electronic design, Voler Systems continues to be a leading custom product design consulting company providing high-quality electrical engineering and firmware development. Voler Systems assure delivery of quality products, on time, on budget with low risk. All projects are undertaken with good specifications, the right people, quality design, constant communication, and a smooth transfer to manufacturing.